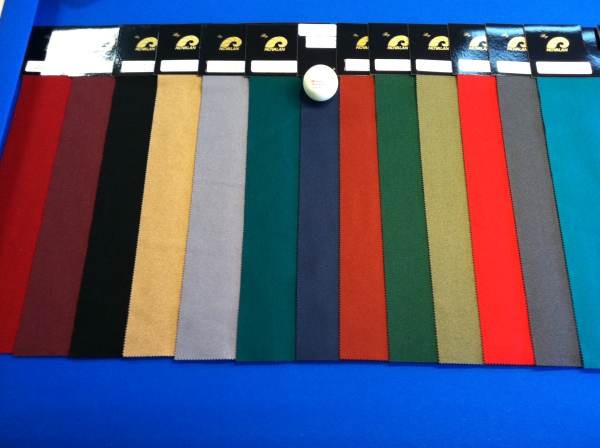 Since cloth is what pool balls roll on, and not the slate, it's important to understand what makes one cloth manufacturer different from another. The Billiard Congress of America never endorses one brand over another and their recommendation for a non-professional pool table covering is vague:
The bed must be covered with a billiard fabric, the major portion of which is made of wool, with proper tension to avoid unwanted ball roll-off.
To understand pool table cloth manufacturers and the products they offer, one must first understand a bit of cloth weaving history.
The Industrial Revolution, arguably the most important event in the history of humanity since the domestication of animals and plants, began about 1760 and was the shift in manufacturing processes that changed the world.
The transition as it relates to cloth weaving involved going from hand production methods to machines. The Industrial Revolution began in Britain and spread to the rest of Western Europe and the U.S. within a few decades.
Prior to this revolution spinning and weaving was a cottage industry, done in households for domestic consumption. During the off-season farmer's wives spun the thread and then the men wove the threads into cloth.
In 1733, a subsequent improvement in weaving occurred with the invention of the flying shuttle. In 1769 Richard Arkwright patented the water frame and in 1771, he installed it along with the spinning jenny in his cotton mill. This singular act created one of the first factories, a building constructed specifically to house machinery rather than simply bringing workers together under one roof.
In the weaving of cloth, there are two types of thread or yarn used: the warp and the weft. The warp is the set of lengthwise yarns, held in tension on a framework called a loom. The second type of yarn, the weft, is then inserted over-and-under the warp threads to create a pattern similar to a reed or wicker basket. Because the warp is held under high tension during the entire weaving process, it must have significant tensile strength.
Arkwright didn't invent the devices that revolutionized the weaving trade, but he nurtured the inventors and patented their ideas. He developed the use of power in the manufacturing process, first horse power, and then water power.
A couple of the major players in billiard cloth have been actively involved in the weaving trade it for centuries. Yes, you read that right, centuries.
Belgian weaver Iwan Simonis has been making cloth in Verviers, Belgium since 1680. The company was started by middle-class merchant, Guillaume Henri Simon Simonis, and known as "le Mercier" or "the haberdasher." The company is currently celebrating its third of a millennium marker in the weaving business; no small milestone.
According to Simonis, the high quality of the water in the town of Verviers was particularly suitable for washing wool, the major ingredient in modern pool table cloth.
Jacques Joseph Simonis was the one who insured the continued future success of the business and he named it after his son Iwan, born in 1769.
Because the British government threatened anyone who exported the technique employed in their mills with permanent exile, at the end of the eighteenth century, Simonis' spinners still worked with a single spindle.
A British engineer named William Cockerill left England and eventually met a Simonis wool buyer named Mali, in Hamburg. Mali realized the value of the technique, until then, unknown outside England.
Under contract with Simonis, Cockerill agreed to produce spinning machines, the first of which were constructed in 1797.
In 1982 a fire destroyed the Simonis company archives, destroying any evidence of the exact date on which the company began to manufacture billiard cloth. By the companies estimate, they've been at the business for about 200 years.
The beginning of the nineteenth century ushered in inventions in carding machines and spinning wool, longitudinal shearing machines and the Leviathan used to clean wool.
By 1878, a dam in the area of La Gileppe, manufacturing innovations, and an abundance of skilled labor, Verviers had become a center of the wool industry.
The Simonis mills continued successfully until WWII, when the Allies bombed it; preventing the company from fully recovering in the post-war period, along with much of the textile industry in Western Europe. Simonis was forced to close or sell its spinning, haberdashery, woven garments production, and the combing, scouring and wool carbonizing divisions.
Peltzer & Fils, was established in 1785 by German-born Jean Henri Peltzer in Hodimont, (part of the district of Verviers, at the time part of the Duchy of Limburg, a Dutch territory belonging to the Hapsburgs). Peltzer & Fils continued to expand over the next century, and a subsidiary was established in Buenos Aires in 1849 and another in Poland in 1885.
In 1961, S.A. Simonis and Peltzer & Fils were combined to create Le Société Anonyme des Draps et Filés Iwan Simonis or the Belgian public limited company Iwan Simonis Cloth, with an emphasis on commercial continuity.
Today, over three hundred years after its creation, the name Iwan Simonis is now synonymous with the highest quality billiard cloth available anywhere in the world. Iwan Simonis billiard cloth is still exported from Belgium.
Besides the lengthy history, what makes Simonis cloth so superior is the smooth, even threads that assure a consistent speed, English and cushion rebound. The high wool content worsted thread construction makes ball spin more consistent and reduces ball burn experienced with many other cloths. Their precise construction is why Simonis has remained the choice of tournament play for generations.
Simonis conducts regular dynamometric tests to maintain the tolerances of extension, elasticity, thickness and abrasion of their cloth, ensuring consistent quality.
The cloth is specially woven and sheared so the direction of the ball is not affected by the cloth. Simonis manufactures a complete range of pool, snooker, carom and pyramid cloths, to suit the characteristics of every type of game played on a billiards table throughout the world.
H.W.T. Mali & Co. has been providing the world with top tier, quality billiard products since 1826, during the presidency of John Quincy Adams. Henri Mali, the great-great-grandfather of Frederick Mali, was born in Amsterdam in 1774. He went to Verviers to join forces with Simonis as managing partner of the company where he remained until his death in 1850.
As the story goes, it was Henri Mali, who in 1799 found and arranged for the inventor of the "Spinning Jenny," John Cockerill, to come to Hamburg. Henri hired him and brought him to Verviers, broking the English monopoly on the efficient manufacture of woven cloth.

In 1826, Henri sent his son, Henri Williem Theodore Mali, to look into starting a business in the U.S. He formed the Henry W. T. Mali & Co., Inc. that year and was joined by his younger brother Charles a few years later.
In 1831, Belgium became a kingdom, and Henri W. T. Mali was appointed the first Counsel General in the United States, a position that has been held by a member of the Mali family until 1949, when Henry J. declined the post.
Neither Henry W. T. nor his brother Charles had male heirs, so in 1878 their brother Jules, who at the time was head of Simonis back in Belgium, sent his son, Pierre, to New York to carry on the family business.
This tradition passed Mali to Mali. Frederick Johnston Mali, is the 5th generation to run Mali and Co., and until recently was the oldest and largest supplier of billiard fabric in the United States.

Until 2012, the Henry W.T. Mali &. Co. continued the tradition of service exemplified by his great-grandfather John Taylor Johnston, founder of The Metropolitan Museum of Art and great-great-grandmother Lucretia Mott, renowned Quaker Abolitionist and women's rights advocate, when the company was forced to close in bankruptcy.
Having been a customer of H.W.T. Mali & Co. for decades, customer anecdotes can be very valuable in assessing the quality of the product. One of my personal favorites comes from a customer whose parents had sold their home of many years and given him the family table. The table produced by us was purchased in the 1970's, which we covered with Mali cloth and he was in our store in 2007 to purchase new cloth.
Beginning in their teenage years and over the intervening ones, the man, his brother and their father had racked up countless hours on the cloth. When the time came to move the table to his own home, in his haste, he hadn't bothered to remove the staples in the original cloth, opting instead to tear it off.
Upon further inquiry, he insisted that after more than 30 years, the cloth had still been in good condition, having played on it regularly until the move; he simply didn't want to take the time to methodically remove it.
That kind of endorsement is tough to beat. But even with five generations of stories extolling the virtues of Mali cloth, it remains unclear as to whether or not this great company will be able to rise from the ashes.
D & R Industries, Inc. began in 1963 was named for founders Dennis Ruber and Richard Utanoff. The amusement industry parts distribution business began in Richard's mother's bedroom in a small apartment in Chicago.
D & R Industries, Inc. went through many changes, but found its niche in the billiard industry. Having distributed billiard fabrics for over than 25 years, Ruber saw a need for affordable high quality billiard fabrics.
The decision was made to switch to become a billiard cloth manufacturer, so a team of engineers, textile experts and billiard people developed the "Championship Line." Manufacturing since 1990, Championship claims that it "sells more billiard fabric than all of its major competitors combined."
Championship billiard fabrics are produced in Santiago, Mexico, located outside of Mexico City. Santiago uses an active shearing machine and a vacuum decating machine in the finishing of its fabrics.
Active shearing uses laser beams to shave the fabric on the top and bottom giving Championship cloth its smooth playing surface. Active shearing also practically eliminates pilling that is commonplace in other billiard fabrics.
The final piece to Championship's finishing process is the vacuum decating machine. During steaming, a 2,000-pound cylinder presses the fabric, resulting in a harder playing surface. Because of this hardness, Championship claims their fabrics play faster than their competitors' and more resistant to punctures. Fewer punctures achieves less ball deflection. Longevity is a byproduct of their special finishing processes.
In 2011, Simonis filed a lawsuit in federal court against its rival Championship, as it had done previously in 2008. The billiard cloth icon was asking them to retract statements and pay damages incurred when relative neophyte Championship, which began manufacturing billiard cloth in 1990, started running full-page ads in leading pool and billiard magazines. According to court records the ads claimed that laboratory testing proved that Championship's cloth held up 50 percent longer than cloth used by Simonis.
As detailed in a Chicago Tribune article:
The evidence Championship cited relied on a third competitor's (Fisher Textiles) internal lab testing that indicated Fisher's cloth held up to sandpaper-like abrasion better than Championship or Simonis. In its ads, Championship copied the lab results (minus the bit proving that Fisher was the most durable) and ran full-page ads in magazines across the country: "Lab results confirm that Championship's Tour Edition outlasts Simonis 860 by over 50 percent." - http://articles.chicagotribune.com/2011-12-22/business/ct-biz-1221-billiard-feud-20111222_1_billiard-cloth-ads#sthash.UGm102Vw.dpuf
In 2008, Simonis sued in federal court. They also claimed:
"There's certain characteristics that are desirable for a billiard cloth, and abrasion resistance against sandpaper isn't one of them," Ivan Lee, president and chief executive of Simonis North America, said in an interview Tuesday. "Billiard cloth has balls rolling on it, not sandpaper."
The suit was settled in September 2010, but one year later, Simonis claimed Championship was at it again.
In response to another Championship ad, Simonis filed a second lawsuit in federal court, asking again for a retraction, damages and an end to the ads.
Quoted in the Chicago Tribune article, Johnny Maricich, a league operator for a franchise of the American Poolplayers Association, said the type of cloth used on a billiard or pool table makes a big difference.
"If the cloth is poor quality, the ball won't roll as well, play will be slower and it won't stay flat, Maricich said. The ball will roll off in another direction.
"'Simonis is probably the top cloth used on most pool tables. Those balls roll forever on that cloth. It's like glass,' Maricich said. 'Championship makes a pool edition that's a fairly popular cloth, mostly used on bar tables. But the pool halls mostly use a Simonis brand.'"
Without clearly taking sides, Maricich manages to distill down between the two pool table fabric choices the one he seems to prefer.
In spite of its bankruptcy, I wouldn't count H.W.T. Mali & Co. out of the competition. If they're able to resurrect themselves, their nearly two centuries in the business counts for quite a bit.
During that timeframe, they've certainly survived numerous competitors and economic hard times and lived to fight another day.
As for the battle between these industry giants, the world will just have to wait and see what players will emerge victorious. Regardless of the outcome, any table owner considering one of these manufacturers is guaranteed to receive great cloth that should last for years to come.